Riding the Roller Coaster has done it again. She has set up another wonderful Mili. Spouse blog swap. I'm so excited to be apart of another of her wonderful swaps she has put together. That woman is awesome. Just sayin'. I mean, Who else could organize 27 amazing bloggers/ mili spouses plus myself for an awesome blog swap for a day?
Be sure to head over to Roller Coaster's blog to check out the other amazing bloggers!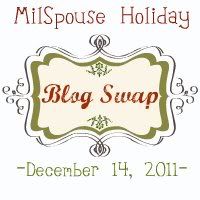 If you're looking for my post, be sure to check out
My Marine and Me
for
My Post
about Christmas since being a Navy wife!
I'm am extremely happy to have
Wife Of a Sailor
taking over my blog today! She's totally awesome. You know how their some wives that wear their husband's rank? Well, Wife of a Sailor wears her own! Yes, that's right. She is an Officer in the Navy Reserves. Her husband is an enlisted Sailor. Which mean, He has to salute to her! ;D
Although, she says he's evaded that for two and a half years. Boo, but that's ok.. We all know she'll get him. Be sure to check her out at www.wifeofasailor.com!
Here's her post. I hop you enjoy it as much as I do.
When most people think of Christmas, they think of the spirit of the holiday season and spending it with the ones they love the most. Those of us in the military world, however, routinely don't have our loved ones near… whether it is a spouse that is deployed or family members that live far away thanks to the military lifestyle. We have to plan our holidays and special events around deployments, duty nights, TDYs and all other sorts of things the military likes to throw around. Christmas may be celebrated months before or after December 25th. And that's normal for us.
Personally, this will be our third Christmas since we've been married. Yet, it will be the first that we've ever spent together. Actually, this past 4th of July and Thanksgiving were our first two holidays together since we've been married, period. 'Tis the way of the military.
I'm incredibly excited about spending our first one together. Christmas can be celebrated on Christmas (okay, well, at least within a day or so of it depending on if he has duty on Christmas Eve/Christmas). I can get excited with all the other people gearing up for the season. But I also realize there are many who aren't going to spend it with their spouse. And my heart aches for them.
But you know what? I think that it is a blessing that we don't always have them with us. I truly believe those of us who are part of the military family have an advantage over most civilians. We know how precious the "spending the season with your family" is. It's not about the presents or the lights or the cookies (mmmm… cookies!), and we realize how wonderful it is to spend time with our family.
I'm not saying civilians DON'T know this or don't get it… rather, I'm saying that we truly treasure the time we have with those we love (when they actually are with us). Because we know that next year, they might not be there. They might be working to make the world a safer place in some far off place or, in our case, 20,000 leagues under the sea.
So this year, I will treasure every minute. I will enjoy the season as it's meant to be. Because sometime in the not-so-distant future, I'll need to look back upon the memories I make this year so that I can make it through a lonely Christmas without Huzzy that will undoubtablly happen once again in the future.
Merry Christmas and Happy New Year, everyone. If you don't have your spouse/significant other/family with you this year, make each moment one to remember. If you don't have them with you, hold on because you aren't alone and we've all been there. You'll get him/her soon and can make your memories then.